"… Societies have always been shaped more by the nature of the media by which men communicate than by the content of the communication…"
Zitiert von:  McLuhan's The Medium is the Message: An Inventory of Effects (1967)
Die Produktion nimmt an Fahrt auf, die Haptikboards nehmen Form an. Die Anordnung und Verteilung der LEDs auf die Boards ist festgelegt, jetzt wird gelötet. Die für den Besucher sichtbare Schnittstelle wird ein mit vielen kleinen Löchern versehenes Aluminiumbrett sein, dessen Infrarotsensoren und Luftventile und LEDs direkt unter der Oberfläche montiert werden. Der Besucher fährt mit der Hand über die Aluminiumoberfläche und eine vorgesehene Reaktion wird ausgelöst, Transformationen können stattfinden.
Die Entfernung zum Bildschirm beträgt min. 70cm.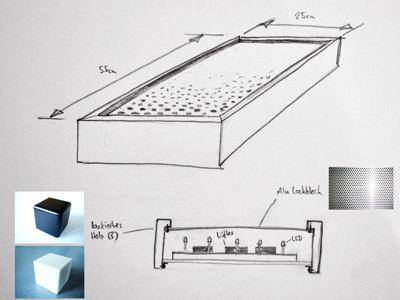 Thomas Nathans Skizze für das Haptikboard. Moods für Oberflächen und Farbgebung sind im Aussenrand angebracht. Illustration© Thomas Nathan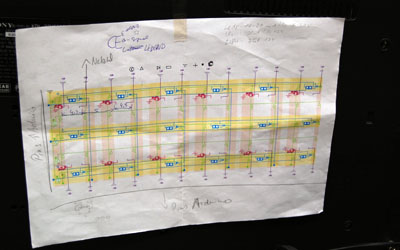 Der Schaltplan.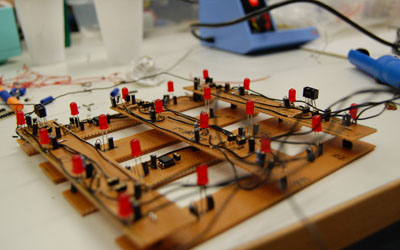 Die Grundkonstruktion.
Anique Roelfsema bestückt eine Platte mit LEDs.
Fotografie © Ursula Drees
von Ursula Drees